Reunion registry
High success rate in finding people
Do you find
yourself wondering
«who do I look like»?
If you were adopted
in Georgia you've come
to the right site!
Have you ever thought
about searching for
birth family?
If you are a birth parent
and made a plan of adoption
for your child in Georgia you've
come to the right site!
gain knowledge
about their birth histories
connect with their relatives
separated by a Georgia adoption
The Georgia Adoption Reunion Registry was created on July 1, 1990 to offer services to birth parents, adopted persons, adoptive parents and siblings who are affected by adoptions finalized in Georgia. In 2003, the law in Georgia was changed to allow birth parents the opportunity to search for the child(ren) he/she has placed for adoption.

The complete content of the law can be found in the official code of Georgia, Annotated, as Amended (19-8-23).
Georgia Adoption Reunion Registry is a non-profit program run by Families First and contracted by the state of Georgia's Department of Human Services.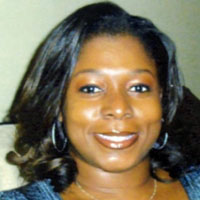 Hello! Prior to joining the Reunion Registry, I worked as an Adoption Social Worker with Families First for 13 years. I have 23 years of experience in child welfare with emphasis on working with children and families who have experienced trauma. I enjoy music, reading, and spending time with family and friends. I have a teenage daughter who keeps me active. The adoption triad is close to my heart and I am honored to continue to work with persons whose lives have been impacted by adoption.
I graduated with my Masters in Social Work from Florida State University and have experience in a variety of settings. My passion for working with youth led me to work with children and teens in foster care and the juvenile justice system for a few years in the Tallahassee area. In my free time I enjoy reading, usually accompanied by large amounts of coffee, and hiking with my dog, Charlie.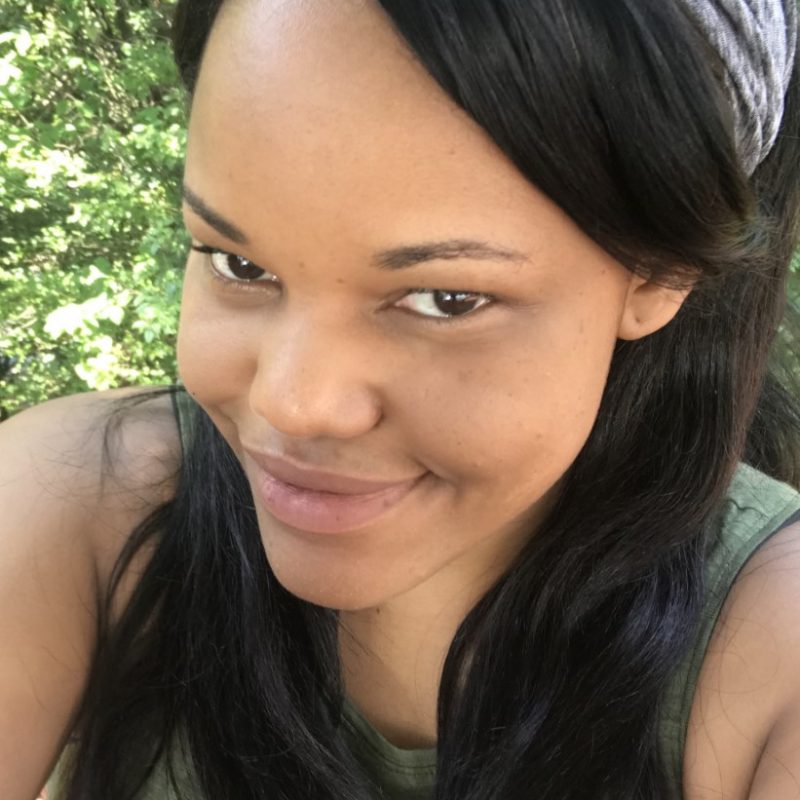 After spending over a decade in Athens, GA, I am excited to have relocated to Atlanta and to come on board with Families First. I received my Bachelor's degree in Women's Studies from the University of Georgia and have worked in a variety of social service settings including behavioral health research, child advocacy, and family reunification work. Outside of work, you might find me reading, playing with dogs, practicing yoga, or watching classic movies.
We are serving the following groups of clients
Reunions can be complex and overwhelming. Join us for support and help in coping with: expectations vs. realities, hopes, fears, disappointments, and other reunion issues. This group is for ANYONE involved in, or affected by, adoption reunion including: adopted persons, birth parents, birth siblings, adoptive parents, adoptive siblings, and spouses. We offer free parking and light snacks.
If you would like to join our support group email list, please fill out the form below.
Families First Decatur office
Families First
4298 Memorial Dr. Suite A&B
Decatur, GA 30032
404-541-3020
The 3rd Thursday of every month!
Thursday, January 18, 2018 Decatur Office
Thursday, February 15, 2018 Decatur office
Light refreshments
and FREE parking
The Georgia Adoption Reunion Registry was created on July 1, 1990 to offer services to birth parents, adopted persons, adoptive parents and siblings who are affected by adoptions finalized in Georgia. In 2003, the law in Georgia was changed to allow birth parents the opportunity to search for the child(ren) he/she has placed for adoption.
Real money casino
allows players to enjoy a realistic gaming experience. With stakes going high with every wager, you can win bonuses and extra spins that keep your spirits soaring all through the game. The gaming platform presents anentire range of internet games complete with the hottestand the most sophisticatedtechnology, sounds, and images. It's like entering a live casino and feeling the heat!
Our hope is that in seeing these photos and reading these stories you will be touched and inspired.
«In 1966 I was married to Walter (we had been married since 1963). He was in the Army and was stationed away. He asked for a divorce because he had met a girl he wanted to marry. I agreed. I met Ralph and got pregnant.
When Walter heard I was pregnant he came home and dropped the divorce. When Ralph was told I was pregnant he decided he no longer wanted to be involved. Walter was stationed at Fort Benning and we moved there in May of 1967. Once Walter came home he said that we would keep the baby and raise it as our own. When we moved to Fort Benning, Walter became (once again) very abusive. On July 16, 1967, I went into labor and my son was born on July 17, 1967. At this time Walter informed me that we would not keep the baby and it was to be put up for adoption. He informed me that if I did not do this he would take our daughter from me (Kathy was at the time 4 years old). I consented and was never allowed to see my son. On a daily basis I called the Children's Service to see how he was.
In October 1967, we moved to Alabama where we lived until Walter was discharged from the Army and we moved to Columbus. For years I tried to contact different agencies to try and find my son but always came up empty-handed. The Children's Service in Columbus, GA stated that there had been a fire and all records destroyed. I never gave up hope that some day, some how I would find him and see that he was OK. As any mother all I really wanted was to know he was alive and well- never did I want to cause a problem just to know he was OK.
In November of 2013, my step son gave me a website for an agency in Atlanta, GA with hopes that they may be able to help me. I contacted them and filled out forms for them to assist me in locating my son. I kept in contact with Rachel Anderson and on December 31, 2013, Rachel called me and said they located my son. On January 6, 2014, Rachel called again to tell me that we were to have a call on January 7, 2014. I could hardly contain myself until the call came in. This was the 1st time I had spoken to my son (since I heard his 1st cry) in 46 years.
Since that time I have spoken to my son everyday and really feel blessed that our relationship has been the way it has.
My husband and I went to South Carolina to meet my son on January 25, 2014 and it was the most wonderful feeling a mother could have after all these years to hold her son that she was never allowed to hold.
When Walter told me that I had to give my baby up for adoption I thought I could do it and would not have a problem. That is the furthest thing from the truth. There was not a day that went by that I did not think of my son. Birthdays, Christmas and other holidays went by and all I could do was wonder if he was OK and did he have a good childhood. I really believe that had I not given him up for adoption he would have been killed or hurt by the hands of Walter. He was abusive until the day I divorced him in 1975. My son is such a joy in my life and I thank God and Rachel every day for him being in my life. What a joy he is!»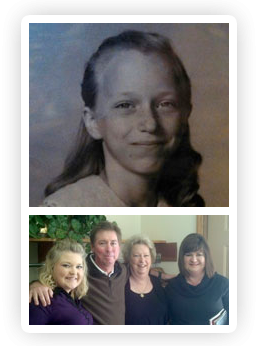 My son is such a joy in my life...
«It has been a year now since Jerrald and I found each other. We both used the Reunion Registry since we were both given for adoption when we were born.
We talked at first and then met in person. We discovered our paths have not been too far off over the years. I am thrilled he only lives 2 hours away. When I see Jerrald, I am overcome with joy and I just run to him and embrace him. When he gives me that big bear hug, lifts me off the ground, and plants that kiss on my cheek, I feel like a giddy little sister. And especially since we had to work our way in to getting to know each other, I cherish our relationship all the more.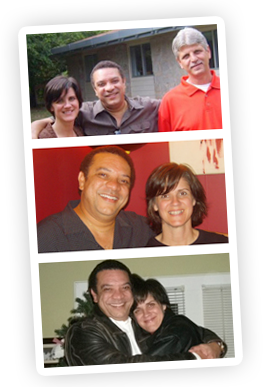 We share a lot in common because of our circumstances of being adopted and being raised by adoptive parents. It is different and I did not know it was different until I met my birth family. I guess that is why we embrace each other the way we do . . . we both had always hoped there was someone out there we were related to and we finally found each other. It is a gift every time I see him. I love that we are able to share that together and I love him. Truly blessed and I thank you!»
Hello, if you have questions about the services we provide, please call (404) 657-3555 and the Intake Administrative Specialist will be happy to assist you.
Georgia Adoption Reunion
Registry 2 Peachtree Street N.W.
Suite 8-407
Atlanta, Georgia 30303-3142
(800) 615-7976 toll-free
(404) 657-3555 office
(404) 656-2463 fax
Your Opinion Matters
We sincerely appreciate your honest opinion, and will take your input into consideration while providing services in the future.